Robert Walters Indonesia raises funds for Rumah Belajar Senen on Global Charity Day 2019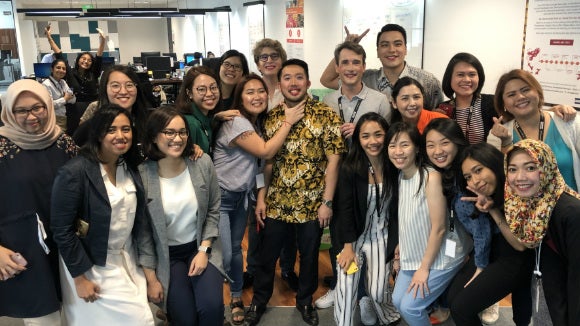 The Robert Walters Group held its annual fundraising event on 11 October 2019. 50 Robert Walters Indonesia employees came together to raise a total of IDR 13,000,000 for Rumah Belajar Senen.
A united effort

This year, the employees of Robert Walters Indonesia were given the opportunity to decide on the charitable cause to which they would put forward the money raised during the Global Charity Day. They were also given the chance to come up with their own fun and unique fundraising activities. All the employees were closely involved and we saw active participation and contribution to raise as much money as they could for Rumah Belajar Senen.
The office rallied together to hit their fundraising target through activities including the "beautify me contest", "all day bake sale", "stress buster massage", "tarot reading", "plank-a-thon" challenges and many more.

"We highly value engaging employees in our charitable activities – and making it possible for them to give based on their personal passions. For Robert Walters Indonesia, this is not just about raising money, but also about a united effort to reach a social goal and we are proud to reach the amount of donation targeted this year," said Eric Mary, Country Manager of Robert Walters Indonesia.

Supporting Rumah Belajar Senen

Located near the Senen railway station, this community service program is dedicated for children around the area to learn while being happy together. The program's scope is not limited to academic learning; it goes beyond to include sex education, sanitation and hygiene, character building, the nation's "Unity in Diversity" concept, arts, music, and sports.
Find out more about Rumah Belajar Senen at https://rumahbelajarsenen.wordpress.com/.