5 expert tips for your next accounting job interview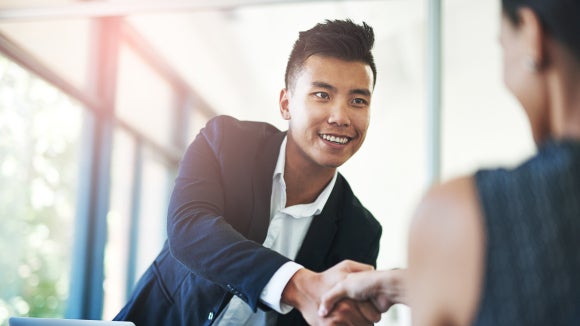 Are you looking to make your next move in the accountancy industry? We've asked our accountancy experts for their top tips to help you shine in your next interview…
If you're looking to land your next accountancy role, preparing for your next interview can be a daunting process.
To help you make sure the numbers are stacked in your favour, we've asked two of our accountancy experts for their advice…
Let your CV tell the story
Mark McGarry, finance commerce consultant in Robert Walters' Sydney office, tells his candidates to make sure their CVs show their career progression. "One key thing candidates forget to include in their CVs is promotions. Instead of just saying 'financial accountant' for four years, put 'junior accountant' for two years and 'financial accountant' for two years. This will show hiring managers that you have succeeded in your previous roles and been rewarded."
Part of this CV storytelling should include detailing your own personal achievements in every role you've had. As he explains, "focusing on any process improvements you've implemented —such as reducing tax or introducing a new way of financial reporting — will quickly show hiring managers what you're capable of and what you'd bring to the role."
Mark also reminds his applicants to list out all their credentials and expertise that might be linked to the role. "All relevant experience should be highlighted clearly on your CV," he says. "Alongside any chartered accountancy qualifications, you should also include the technical knowledge you have, as experience with IT software and systems is increasingly important to hiring managers."
Do your financial homework

"Prior to any interview, accountancy candidates need to read up on the company's annual statement report and recent news on the company such as business expansions and product launches," shares Nidya Ramalia, senior commerce finance consultant in Robert Walters' Indonesia office. "Accounting is an integral part of the company and hiring managers want to ensure that candidates are genuinely interested in being a part of the business."
"In addition to research about the company, candidates should also be familiar with local accounting regulations or policies, especially in emerging countries such as Indonesia," Nidya adds. "Local accounting, finance and tax policies may be very different from general international accounting policies and candidates must be familiar with the differences."
Prepare for accounting interview questions

"Online and written tests to determine the candidate's behavioural and soft skills are common among businesses and organisations in Indonesia. Particularly for junior to middle-level roles, these behavioural tests are not just a formality and can play a huge part in deciding whether you land that dream job," says Nidya. "Even if a candidate has all the right technical skills, many companies will not take a candidate who may be a bad cultural match for the company because fit issues can often be disruptive."
However, Nidya recommends candidates to be honest on these tests. "Don't feel like you have to give the 'right' answer because knowing if you can fit into the company is both beneficial for you and the company. You don't want to lie now to find out later that you don't agree with the culture of the company," she adds. "The only way to really prepare for such tests is to ensure you're well-rested and calm, so your answers reflect your true personality."

Show off your communication and consultation skills

Being able to communicate is important in any job you apply for but, as Mark advises his applicants, in an accountancy role a hiring manager will want assurances that you are able to work successfully with people outside your immediate team and communicate with other stakeholders.
Companies today are looking for candidates who can collaborate with other business functions to directly or indirectly drive growth. "The ability to bring positive value to the business through building partnerships across departments and various stakeholders is a skill hiring managers are looking out for," shares Nidya. "The responsibilities of accounting candidates have evolved over the years and to shine, candidates need to show how they can be a partner to the business."
Demonstrate your enthusiasm for the role

In an interview setting, Mark reminds his candidates to focus solely on why they want the job. "Discussing the reasons why you want to leave your current position could lead to some red flags for the interviewer. Make sure you stay focused on the pull factors of the job that you are interviewing for instead."
Smart and relevant questions about the business during the interview will demonstrate your level of interest for the role. "Leverage the research you have done about the company to ask insightful questions. Providing context to your question will help you showcase that you've done adequate research and really thought about your questions," explains Nidya. "Do try to avoid asking about the salary and working hours during the interview as it may reflect poorly on your motivation and working habits."
Get more hiring advice here , or contact Nidya Ramalia, senior consultant, commerce finance, for an in-depth consultation on your hiring needs at nidya.ramalia@robertwalters.co.id