Robert Walters' Success Story: Nicodemus Winata, Hilti, Indonesia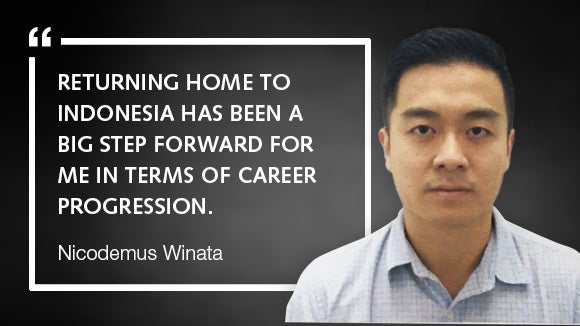 Who? Nicodemus Winata, Head of Marketing
Where? Hilti, Indonesia
How long? Since 2017
Having been successfully placed by Robert Walters Indonesia at Hilti, Nicodemus Winata explains how the recruitment company helped him in his professional journey and his views on working in the local market.
Where were you before this and what motivate you to return home to Indonesia?
Before Hilti I was with ITW (Illinois Work Tool) in the United States. I never worked in Indonesia, even before US, I worked in Singapore. What motivated me to return to Indonesia was mainly the fact that I wanted to be close to my family. In addition, I felt it was the right time to return to Indonesia as the country has lots of potential and ample career opportunities.
Please describe the responsibilities of your new role in Hilti Indonesia.
I am the Head of Marketing at Hilti, and responsible for managing two teams – Marketing and Engineering. As the Head of Marketing, I'm responsible for developing strategic marketing plans for Hilti, product development and launches, as well as Marketing campaigns. We are in the midst of a digital transformation. This is something new to Hilti and I'm also responsible for that area. I'm also in charge of managing the engineering team for Hilti's technical products.

How did the Pulang Kampung program help you in advancing your career in Indonesia/resume your career in Indonesia. How was the entire journey?

I think I heard about Pulang Kampung via an email sent by Robert Walters Indonesia on hot jobs available in Indonesia. From there, I reached out to the International Candidate Manager. I talked to her about my interest in coming home. And from there, she connected me with one of Robert Walters' consultants, Hassan.

Hassan has been really helpful in finding the right company and role for me. I remember one of my top priorities was ensuring I was comfortable with the company's culture and voiced this out to Hassan. When he introduced me to HILTI, I felt it was the right fit.

What do you think was the best part of working with Robert Walters for your placement?

I really enjoying dealing with Robert Walters' consultants, and seeing how helpful they are with the job search. They gave suggestions on how I should conduct myself in an interview with the local people. They also gave suggestions on how to adapt to Indonesia's work culture, especially knowing that I have never worked in Indonesia.

Returning home is not an easy process to be honest. You need to build your life from the start, such as setting up housing, etc. But on the bright side, returning home to Indonesia has been a big step forward for me in terms of career progression. I was a product manager in ITW and now in Hilti, I'm the Head of Marketing.

Any feedback on the programme?

I will definitely recommend Robert Walters' Pulang Kampung campaign to other overseas professionals.
What advice would you give to someone who is coming in to Indonesia to work from overseas?
Be prepared. You will need to adapt to both a lively corporate and social culture. For example, getting used to the traffic conditions here. Read more about the Indonesian market and research about the country.

How do you deal with the changes?

I spoke with my friend and family to consult with them. Now I'm used to the culture in Indonesia. Our office is in the South area, and my house is in Tangerang. Traffic is not that bad, because I m not going to the central part of Jakarta. If there's heavy traffic, it will take 1 to 1.5 hours to get to work but if there's no heavy traffic, it will only take 45 minutes. I'm still adjusting to the changes.


To speak to our consultants on your next career move, or to find out more about Indonesia's job market, call us at +62 (21) 2965 1500 or email us today.
or
If you are keen to know more about Pulang Kampung campaign, please email International Candidate Manager, Belin Delannoy at belin.delannoy@robertwalters.co.id or call +62 21 2965 1536.