Robert Walters' Success Story: Vania Chandra, Tokopedia, Indonesia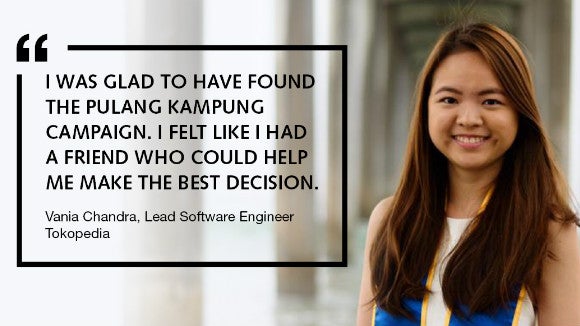 Who? Vania Chandra, Lead Software Engineer
Where? Tokopedia, Indonesia
How long? Since 2019
Vania Chandra moved to the United States (US) for studies in 2012 and obtained a Bachelor's in Computer Science at the University of California. She went on to become a software engineer at Amazon, where she spent two years, before making the bold move to return home to Indonesia – which surprised many of her friends and family.
"Even though it may have seemed like I was giving up on an exciting position at Amazon, I never really thought of staying in the US permanently. It was a great place to learn and to get experience but I fully intended to return to Asia after working in the US for a while," explained Vania. "I knew that there would be similarly exciting opportunities that I can pursue in Indonesia. Additionally, my family and friends are either in the country or the region and I wanted to be close to them, so I was always just waiting for the right timing to return."
Vania first heard about the Pulang Kampung campaign through her friend, who recommended it to her knowing that she'd be interested in knowing more about career opportunities back home. After she'd connected with Robert Walters Indonesia to find out more about the campaign, Vania said "the rest was history".
"Knowing there would be opportunities back home was one thing – but actually finding and securing them was another. I hadn't really known where to start my search and looking for a new job in Indonesia while being in the US was challenging given the differences in time zones, "shared Vania. "Additionally, I wasn't sure what to expect in terms of the job scopes, salaries and cultures."
Thobie Gerinardi, tech consultant at Robert Walters, reached out to Vania and spoke to her about the growing tech landscape in Indonesia. "He really took the time to find out more about my interests and career motivations and shared with me about the start-ups and unicorns within the country," Vania said. "I was incredibly excited by the fact that I could return home and continue my career path in tech back in Indonesia."
Within four months of initial contact with Robert Walters, Vania secured a role as a lead software developer with Tokopedia, one of the largest e-Commerce companies in the Indonesia.
"The whole process was so seamless. I was incredibly glad to have found the Pulang Kampung campaign as I felt like I had a knowledgeable friend who could help me make the best decision. I tried searching on my own and I know for a fact it wouldn't have been as quick as it was."
Vania encourages other Indonesians looking to come back home to ask around and tap on all the resources available. "Just get to know all of your options – you don't have to commit immediately. Indonesia is still a growing country and there is a vast number of opportunities here. Don't be afraid of taking the first step and reach out just to find out more."

Are you thinking about moving home or know someone who would like to Pulang Kampung? Have a conversation with Belin Delannoy, our International Candidate Manager (ICM), to find out more about opportunities in Indonesia.