Robert Walters' Success Story: Lovissa Winyoto, OVO, Indonesia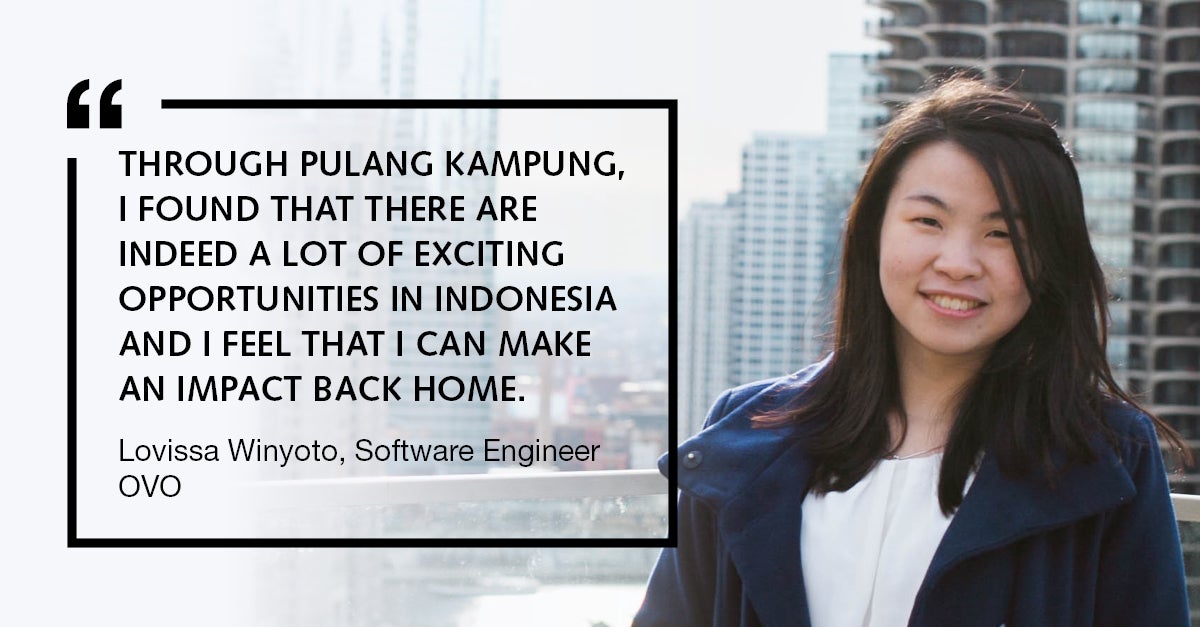 Who? Lovissa Winyoto, Software Engineer
Where? OVO, Indonesia
How long? Since 2019
Lovissa Winyoto moved to Atlanta, United States in 2012 where she attained her Bachelor of Science in computer science. In 2016, she graduated and started her career as a developer at a company providing wealth management advisory software solutions. Three years later, in 2019, she decided to bid goodbye to her home of seven years and return to Indonesia.
"I was involved in end-to-end work in my previous role and I gained a lot of knowledge and experience on the job. However, after three years of working at the same company, I thought that it was time to take on a new challenge," said Lovissa. "That was when I started applying for a few roles on LinkedIn. However, I would say that I wasn't actively seeking for new jobs and was just merely exploring the available opportunities."
Although she was interested in the idea of working in other countries, Lovissa didn't really know where to start – even back in her home country of Indonesia.
"I'd heard about the booming tech market in Indonesia and how there were plenty of jobs available back home, but I didn't really know where to start. After being away for seven years, I was concerned about whether my skills and experience would be relevant and attractive to employers back home," said Lovissa.
Although the Java developer wasn't in a rush to find a new role, she logged onto LinkedIn from time to time to see if there were any exciting roles available. One day, she received an email from Robert Walters Indonesia's International Candidate Manager.
"I didn't think too much of it at first. I just wanted to find out more about the tech landscape in Indonesia and perhaps hear about some of the opportunities available. The international candidate manager was more than willing to share this information with me," recounted Lovissa.
After thoroughly understanding her personal interests and goals, the international candidate manager then connected Lovissa with Thobie Gerinardi, a recruitment consultant that specialised in software development roles.
"After speaking with Thobie, I felt much more confident about moving home to seek roles in Indonesia. I was able to picture in my head of how working in Indonesia would be like, and the differences and similarities between working in the States and back home. It helped me calibrate my expectations and explore options I would not have thought about before."
The rest of the process was "surprisingly smooth and seamless", according to Lovissa. Thobie swiftly matched her a software development role at OVO and she had her interviews done via Skype while she was still in the States. Within a month of her moving home, Lovissa started her new job.
"I was really excited about taking on this role. I can leverage my past experience, but at the same time, there is still a lot of space for me to learn and grow. Through this process, I found that there indeed are a lot of exciting opportunities in Indonesia and I feel that I can make an impact back home in my current role," Lovissa shared.
Are you thinking about moving home or know someone who would like to Pulang Kampung? Have a conversation with Belin Delannoy, our International Candidate Manager (ICM), to find out more about opportunities in Indonesia.