Robert Walters' Success Story: Adrian Rusli, Home Credit, Indonesia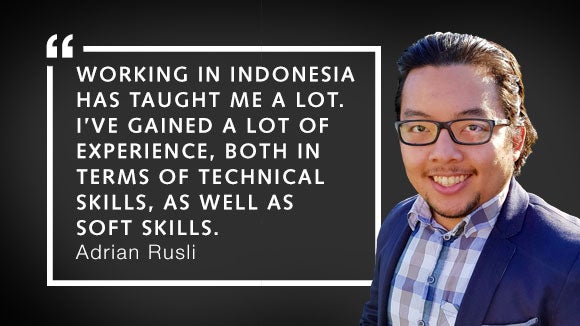 Who? Adrian Rusli, Anti Fraud Analyst
Where? Home Credit, Indonesia
How long? Since 2018
When Adrian looked to move from Australia, where he lived for nearly 10 years, back home to Indonesia, he applied for over 200 jobs before one company, Home Credit, gave him a proper interview opportunity. Home Credit, a multi-channel provider of consumer finance with operations worldwide, found that Adrian had the relevant skills and expertise they were looking for. On top of that, they were impressed by the fact that he had experience working overseas. After a round of interviews with Home Credit, Adrian landed the position of anti-fraud data analyst.
So why did Adrian face so much difficulty with his first 200 applications?
"From what I gathered, the fact that I wasn't physically in Indonesia posed a major challenge," Adrian shared. "Many companies got back to me on my application, but once they realised that I was not able to make it for a face to face interview, they stopped contacting me altogether."
This surprised Adrian, as he initially believed that companies would be willing to conduct interviews via Skype or through international calls. However, that was not the case, and Adrian, whose visa was about to expire, mentally prepared himself to move back without a job.
Having heard about his problems, Adrian's friend, who had experience with Robert Walters Australia, recommended him to get in touch with Robert Walters consultants in the Indonesia branch. Adrian looked up the website, and was intrigued to see that Robert Walters Indonesia had a Pulang Kampung program, dedicated to helping overseas Indonesians return home with minimal disruption to their careers.
"The day after I enquired more details about the program, a representative from Robert Walters Indonesia got in touch with me and set up a time for a call," said Adrian. "I was pleasantly surprised as most companies I had contacted were reluctant to speak to me over an international phone call."
On the call, Adrian shared his work experience, education background and career goals with the Robert Walters representative. "She was very thorough, which was very reassuring," said Adrian. "A few days after the call, she got back to me to let me know that there were no available positions for me at that moment. While it was disappointing, I appreciated her follow-up."
A few weeks later, Adrian received contact from another Robert Walters Indonesia consultant about a job opportunity at Home Credit that had opened up.
"The consultant was very helpful. She not only helped me set up a Skype interview, she also thoroughly briefed me on what to expect, and how to prepare for the interview so that I would shine," said Adrian. "Post-interview, she also provided me with feedback, told me more about the working environment at Home Credit and helped me negotiate my salary, something I was concerned about given the difference in exchange rates."
Adrian has since started work at Home Credit and is glad that he made the decision to move back to his home country. "Working in Indonesia has taught me a lot. I've gained a lot of experience, both in terms of technical skills, as well as soft skills. Additionally, I realised that some of the concerns I had prior to moving back were unfound. For example, I'm saving more money now compared to when I lived in Australia since the cost of living is lower here. I also managed to adapt quickly to the work culture here, thanks to the great dynamic my company has built."
To other overseas Indonesians looking to move home, Adrian advises, "Despite what others may say, working in Indonesia does provide a wealth of valuable experience. I've grown so much as a person since starting work here. I encourage those considering to 'Pulang Kampung' to do it – and reach out to Robert Walters because the process is so much easier and smoother with their help."


To speak to our consultants on your next career move, or to find out more about Indonesia's job market, call us at +62 (21) 2965 1500 or email us today.
or
If you are keen to know more about Pulang Kampung campaign, please email International Candidate Manager, Belin Delannoy at belin.delannoy@robertwalters.co.id or call +62 21 2965 1536.