8 ways to prepare for a legal job interview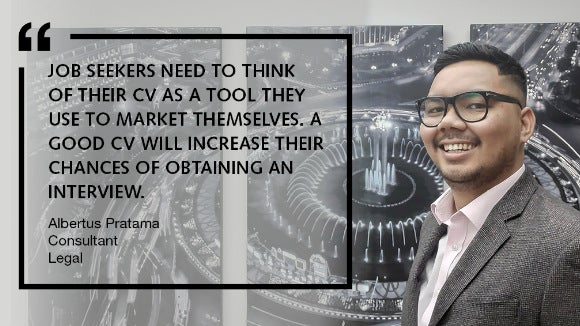 Though the legal industry is currently one of the strongest sectors for recruitment growth, job interviews can be a daunting process wherever you are in your career. Take the worry out of your next interview by following these quick and easy tips from our industry experts…
Whether you're just starting out or you're an experienced lawyer with many successful years behind you, having strong interview skills is essential to making the right moves in your career.
We asked some of our legal industry experts for their insight to help you in your next interview…
Highlight your successes
A CV introduces the candidate to a potential employer so it's important that job seekers spend time and effort creating a CV that impresses, says Albertus Pratama, legal consultant at Robert Walters' Jakarta office.

"Job seekers need to think of their CV as a tool they use to market themselves. A good CV will increase their chances of obtaining an interview," he advises. "I like to tell my candidates that a CV should be 'FACT' – flawless, actual, concise and tremendous. Senior candidates looking for new roles should succinctly explain their latest achievements by showcasing examples of transactions, cases, legal articles or products they successfully managed, led or published."
Be knowledgeable about what you've done

Less is more when it comes to your CV, advises Ken Okumura, senior manager at Robert Walters' London office.

"Don't put every matter you've ever worked on down on your CV, even if they're high profile matters," he says. "You should only mention those jobs you've actually had a significant input in, the ones that you're willing to talk about in detail. Hiring managers won't want to hear about a matter you only took the meeting minutes for."
Even if you've only mentioned them briefly on your CV, Ken suggests preparing a clear and concise description of each of your previous roles before an interview. "Once you've explained these roles, ask the hiring manager if they want you to go into further detail. It's likely they won't, but it shows that you're articulate and well prepared."
Frame your experience for the role

When going for a new position, it's essential that candidates frame any experience they have in a positive way that's tailored to the role, says Ken.

"You should always refrain from talking about current or former employers in a negative way," he says. "It looks unprofessional and won't show hiring managers why you want to work for them."

"Instead, if your current role at a bigger firm doesn't offer much in the way of responsibility or mentoring possibilities, frame that experience as a reason why you are now looking to take on more duties in an entrepreneurial role with a smaller firm."

Know what's going on

Before heading into an interview, Albertus advises his candidates to research all the latest news and trends relevant to the employer.

"There's an old Indonesian saying that goes, 'You can't love what you don't know'," Albertus shares.
"Jobseekers need to understand the company well to be able to convincingly show why they want to work for them. For in-house positions, in particular, this will give you the opportunity to showcase your ability to think as a business partner – which many employers are looking for today."

Sell your soft skills
While technical skills are still very important but employers these days seek more than just a technically skilled lawyer, explains Albertus. "They are on the lookout for commercial acumen, interpersonal skills and adaptability. This is particularly important for in-house roles, where hiring managers are looking to hire legal professionals who can help support the business commercially."

Prepare your questions — and your answers
Asking the right questions in an interview can be the most effective way for a candidate to demonstrate their ambition for the role but, as Ken advises, candidates should also prepare the right answers.
"If you ask something to make yourself sound clever, then you should also have an answer prepared for your own question just in case the interviewer turns it around and asks you for your opinion. Never ask a question you're not prepared to answer yourself."

Dress to impress

"You've already made a good impression through your CV so make sure that you live up to the expectations you've set. It only takes 10 seconds for a hiring manager to dismiss someone as a potential candidate so keep in mind to have a firm handshake, establish good eye contact and dress professionally," shares Albertus.
And, as Ken adds, "even if you know that the company has a dress-down policy, it's always best to ask your recruiter beforehand or err on the side of caution if you're unsure and opt for suitable business attire."

Relax and be yourself

When helping candidates prepare for interviews, Ken always reminds them to remain level-headed. "Don't get too intimidated if you're being interviewed by a senior partner in a law firm — just remember that they were once in your shoes," he says.
"The success or failure of the interview will largely depend on the rapport you build with the interviewer, so don't be too mechanical and don't let the interviewer feel like they are pulling information out of you. Be open and conversational."
Look for job opportunities in the legal sector here.